You can use paper pots anywhere, like outdoor or indoors.
Even if you are cooking for the first time, this tool is also very safe and don't have to worry.
• Without any chemical composition,100% pure paper
• It safe cooking for beginner.
• Add water can be boiled for more than 3 hours
• Light and easy to store, only 53 grams
• Can be repeated more than 5-8 times
• The paper cover can be used as an anvil
• Hot paper pot that made in Taiwan
FDA and SGS certifications enhanced the products reliability.
It's made of craft papers and environmentally .
It is appropriate for outdoor activity with eco-friendly materials and colors.
Non-toxic paper pots, and can be natural decomposition.
The design of the ancient traditional building's technology.
US fire safety specifications UL94V-0 level certifications ,SGS non-toxic certification.
15*15cm after folding, completely flat, do not make up space.
It can be cooked at high temperature for 3 hours. Use melon cloth to clean it well after using.
1. Size :
Medium Size 1600ml - Served for 1-2 People

Paper Pot : 150mm x 150mm x 90mm

Pot Lid : 200mm x 200mm
2. Materials : 100% Paper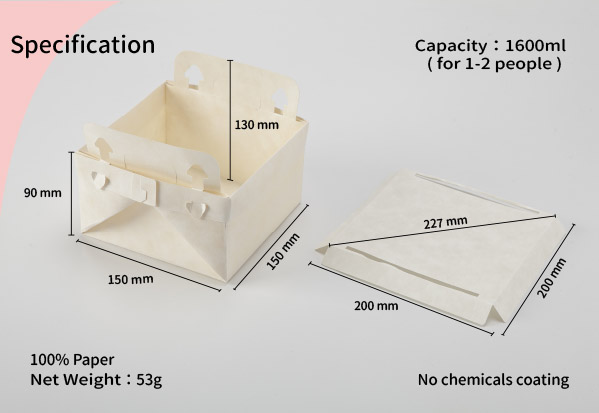 3. Available the stove and the Microwave
4. The Paper Cooking Pot is a fireproof pot that won't burn when cooking food in it directly on the fire. It's highly durable against water and heat.
5. Repeatable used for 5-8 times. It's easy to clean.
6. Functional paper lid as a cutting board.
*Precautions for Use:
Must put the water before heating.
During the cooking, water does not evaporate all.
Electric oven less than 200 degrees are recommended to use.