NEW Design Twist Heavy Duty Pastel Party Plastic Fork
| | |
| --- | --- |
| Model Number | TC-140-PP-BearSpoon |
| Length (cm) | 14 |
| Weight (g) | 3.4 |
| Material | PP |
| Color | Marshmallow Pink/Cream Puff/Cotton Candy Blue/Lilac Icing/ Avocado Milkshake |
Enjoy any festivity with the twist fork! There are five charming colors, lilac icing, cotton candy blue, marshmallow pink, cream puff and avocado milkshake. Not only beautiful appearance but also excellent rigidity. It's great for fusion restaurants, theme restaurants and so on. Let's Enjoy your salad, Chinese take-out dishes and desserts with this adorable fork!
Five colors to choose
Plastic Fork Standard Packing
Plastic Fork Single Wrapped Packing Available
Tair Chu provides diversified package for our plastic cutlery. You can order bulk package for commercial stores, you can order the cutlery with hanging bags for the end users in supermarkets and you also can order the single wrapped cutlery to keep the cutlery clean. Almost all of our plastic spoons, plastic forks and plastic knife can be packed with the single poly bag. It is also available to print your logos on the bag for marketing purpose. Find the cutlery you like, we will do the customized package for you.
"Pick Tair Chu cutlery you like; and we can pack any combination you want."
Certifications
TAIR CHU manufactures the tableware in Taiwan. In our hearts, the cutlery is important that it is the bridge between the food and our mouth, so to respond the market demand and improve quality control, TAIR CHU has been certificated with ISO 22000 and HACCP.
Product Series
Plastic Spoon /Cutlery Series
As an outstanding plastic spoons supplier and manufacturer, Tair Chu offers a wide range of high quality wholesale small plastic spoon from Taiwan. With more than 30 years of experience of plastic spoons and disposable spoons manufacturing, Tair Chu has been continuously advancing on professional equipment. To meet HACCP,ISO22000,and NSF requirements, we further relocate our plant and build cleanroom in 2014 to produce highest quality plastic cutlery for global market. As a leader in the plastic cutlery industry, we keep improving in designing, developing and manufacturing to distinguish our product from others.
NEW ARRIVAL ITEM - Bear Spoon
Leaf Spoon
The spoon scoop fits into the blind spot of the bottles making scoop easily and more convenient. Customers can enjoy signature desserts with leaf spoon.
We have colors BubbleGum, SunFlower, CandyGreen, LemonGrass, BlueBerry, Pearl, Lavender, you can choose the one you like to make sweets more attractive.
Cake Cutlery
The elegant curved back allows the fork to sit comfortably in your hand. Plus, this cake fork has the flat edge; it's easy for you to cut the cake. We offer Blueberry, Lavender, Mint, and Peach color; just choose your dream color to make your sweet treats become more attractive.
This is the perfect plastic dessert knife; the 19cm professional quality cake knife is for slicing bread, cake, crusty bread, bagels, pastries and other food. You will love using the dessert knife on teatime and party. It featuring handle of knife is ergonomically designed for balance and comfort. With special design colors: pearl, blueberry and chocolate. Don't miss this occasion to get your unique colorful cake knife.
Tair Chu recommend you some plastic cutlery for your cake.
Cheese cakes, birthday cakes, fondant cakes, chocolate cakes and so on , you can find the most suitable cutlery for your desserts.
Eco-Friendly Cutlery
As an experienced PLA cutlery manufacturer, Tair Chu has been continuously advancing on professional equipment and product design to satisfy every customer's needs from various stages. In order to have all our PLA cutlery and biodegradable cutlery match HACCP standard, we persist in continuously improving the processing procedures and technologies and invested largely for production capacity and plant expansion. Eco friendly cutlery, corn starch cutlery of love earth series, nowadays, is getting more important and popular in the world. Tair Chu is the trustworthy manufacturer and supplier for you.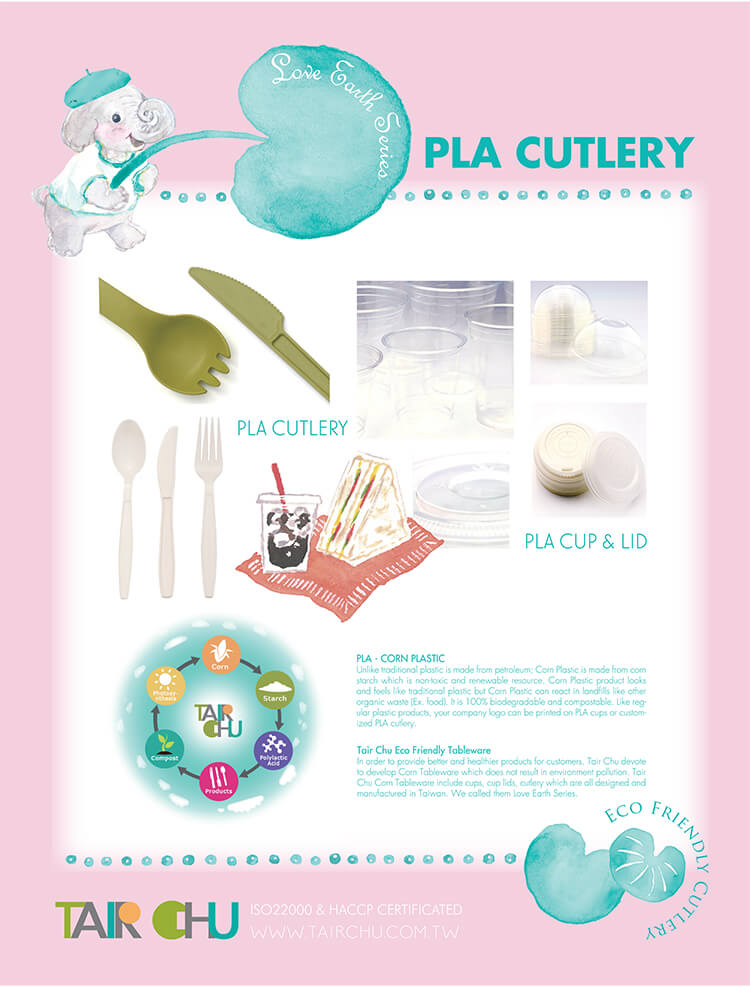 Process Flow
Quality Policy
Tair Chu's Qulaity policy is committed to excellent customer experience, innovative product development, continuously improved production process and the delivery of the safest products.
Our customers are our best product designers. With accumulated customer feedback, Tair Chu always design and manufacture the tableware from user's perspective. In the product development, under the premise of the safety, the only thing we care about is how our customers can benefit from the new tableware, - low cost, innovative design or excellent function.
Tair Chu continuously improved the production process to reduce the energy usage. In the office and working area, LCD systems are used for lighting. The central air conditioner is combined with the injection machine cooling system to reduce the energy waste. More than that, in the cooling system, the cooling water is also recycled water. All injection machines for tableware productions are hybrid systems.
Tair Chu is certified with ISO 22000 and HACCP in 2014 to ensure adequate control at all stages of the tableware production to prevent the introduction of food safety hazards. With the integration of the certification standards into our quality management systems, we can continuously strive to improve our products and production process. In order to exceed the quality expectation of customers, Tair Chu also set up a dedicated ISO-9 clean room for tableware production.
FAQ
Q: How do I pick the right cutlery? What's the different between PP and PS Cutlery?
A: PS cutlery usually has high stiffness but easily get fragile. It is cold food friendly cutlery. PP cutlery has high impact resistant but is with less stiffness. PP cutlery is hot food friendly cutlery. Cutlery with the length less than 15cm usually used for take-out meal with small boxes, desserts, and fruits. Long cutlery can be used in picnic, and banquets.
Q: What is PLA or CPLA cutlery?
A: PLA or CPLA cutlery are eco-friendly cutlery. CPLA cutlery is hot food friendly cutlery. Both cutlery can react in landfills like other organic waste. It is 100% decompostable and biodegradable. PLA or CPLA cutlery also have high stiffness. The characteristics are similar as that of PS cutlery.
Q: Is PS or PP cutlery decompostable or biodegradable?
A: PS or PP cutlery is recyclable, but decompostable or biodegradable.
Q: Can I order small quantity as the trial order?
A: Yes, we accept small order of our existing cutlery.
Q: Can I have the cutlery with my own embossment logo?
A: Yes, we have strong experience in helping customer fulfill his/her design. Every year we build around 30-40 different products for our customers.
Q: Can I have logo print on the existing cutlery?
A: We suggest customer to print the logo on the boxes or do the embossment on the cutlery. We usually don't recommend customers print logo or artwork on the cutlery because of the concern of the contamination. In addition, the cost of the logo print will be much higher than product itself.
Q: What's the price for customized cutlery? Is it very expensive?
A: We can build the cutlery based on customers' demand and budget to find the best solution to satisfy customers' customized desire.
Q: How do I start the customized project?
A: Please send us your 3D design drawings. If you don't have the drawings, you can send us your hand drawings or the referral, and also advise the cutlery length and usage. After fully understanding your thoughts, we can help you design the brand new cutlery.
Q: What's the lead time for the process?
A: In general, it will take 7-10 days to design the new cutlery. It will take another 30-40 days to build the toolings. If you need the prototype before building the tooling, it will need another 5 days.
Company Information
As a professional plastic injection moulding products manufacturer, Tair Chu provides not only in-housed design products such as plastic cutlery but also customized products for customers with big brand name around the world. To respond the market demand and improve quality control, Tair Chu has been certificated with ISO 22000 and HACCP since 2014.

Tair Chu Enterprise Co., Ltd. has strong background in the plastic injection industry.

Established in 1978, Tair Chu began from manufacturing plastic chair for domestic furniture distributors. Over the past thirty five years, with good reputation in product quality, on-time delivery and promptness in customer service, Tair Chu accumulate solid experience in developing a variety of customized plastic products and countless customers in a varety of industries including food packaging, fitness equipment, home appliance, car accessory and electronic device.

In 2008, Tair Chu made decision to lower the reliance on non-food packaging products and set up the direction for long term product development in food packaging industry. Since then, we built all kinds of disposable plastic cutlery and disposable food containers for either general customers or brand customers. In order to meet customers' demand for production environment and HACCP standard, we have not only been continuously improving the processing procedures but also invested largely in production capacity and facility expansion.

In 2014, Tair Chu has relocated to our new factory building with dedicated clean room for the tableware production. Integrated product design, mould development, mass production, printing, packing and delivery, Tair Chu provide our customers one stop shop service to simplify their process. Our team also work closely with our clients to develop innovative product to satisfy customer 's demand at the retail level for creative and value-add products.

Look to the future, Tair Chu will keep embracing new technical challenge to help our customer fulfill their ideas and striving for sustainable development and our customer commitment, superior quality, on-time delivery and promptness in customer service based on the present foundation.