Size

Lazy Susan

(LS011) White Low-stemmed

12"X 1", 7 pounds

30.5 X 3.8cm , 3.2 kg

(LS021)White Tall-stemmed

12"X 3 3/4",8.4 pounds

30.5X 9.5cm , 3.8 kg

Feature

l Multifunctional

l Ball-bearing design for smooth rotation

l Non-slip design at the bottom

l Beautiful and durable

Turnable for making cake

Display for afternoon snacks

Storage for various seasoning canisters

Great help for cabinet storage

TV or monitor base
Size

Lazy Susan

(LS011) White Low-stemmed

12"X 1", 7 pounds

30.5 X 3.8cm , 3.2 kg

(LS021)White Tall-stemmed

12"X 3 3/4",8.4 pounds

30.5X 9.5cm , 3.8 kg

Feature

l Multifunctional

l Ball-bearing design for smooth rotation

l Non-slip design at the bottom

l Beautiful and durable

Turnable for making cake

Display for afternoon snacks

Storage for various seasoning canisters

Great help for cabinet storage

TV or monitor base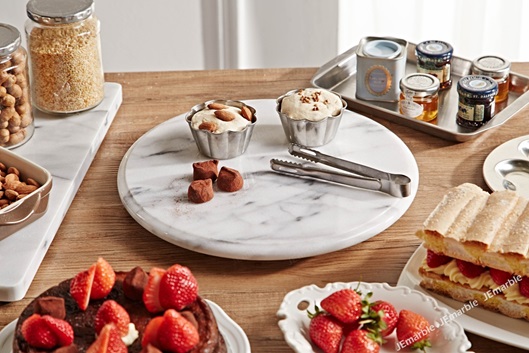 一、Brands
JEmarble was founded in 1994, specializing in the production of marble kitchen appliances. We use marble mined in Hualien, Taiwan. Marble appliances are anti-mildew and economize cleaning effort. It's effortless and modern, made for enjoyment of healthy food.
Introduction to Marble
The artistic presence since Renaissance- Carrara Marble, was the material appointed by Michelangelo and the Italian high-class material commonly used in modern architectures. Marble from Hualien Taiwan is world famous for its quality that rivals Carrara Marble.

All products of our company are made of natural marble in Hualien, through delicate processes of cropping, drilling, grinding and electropolishing, all of which are meant to create the best kitchen appliances and to upgrade your cooling experience.
二、Origin Certificate
Made in Taiwan (MIT) : certified by Industrial Development Bureau, Ministry of Economic Affairs, and manufactured according to the trustworthy standard of safety and health.