The second biannual "Taiwan International Shoe Making Technology Show (ShoeTech Taipei)" will return to Taipei Nangang Exhibition Center, Hall 2 from September 9 to 13, 2020. As the Taiwan's international shoe-making technology show, the ShoeTech Taipei will be held concurrently with the "Taipei International Plastics & Rubber Industry Show (Taipei PLAS 2020)." The two exhibitions will reinforce and create synergy with each other as a result. A total of 550 exhibitors combined will be onsite, with more than 3,000 booths, expecting to attract the attendance of 22,000 international and domestic buyers.
In response to the fast-paced fashion trends in the shoe-making industry, relevant machinery from Taiwan is providing high-efficiency automated production technologies to meet current rapidly-changing, highly-customized market demands. The shows will display comprehensive shoe-making machinery and equipment; including a variety of shoe-making machinery、Machinery for the Leather Processing、Testing Instrument、Shoe Molds & Dies、CAD/CAM Software、Automated Equipment & Macromere、Shoe Materials and Accessories、Leather and Synthetic Leather、Raw Materials and Adhesives. In addition, a new section of "Shoe Materials & Accessories" will be added to the one-stop shopping destination for buyers.
The event is expected to attract more booths from 155 last events to 300 this year. A number of major exhibitors include PAILUNG, TIEN KANG, DING-SHEN, HORNG CHII, MSISM, CHEE SIANG, and KING STEEL. They will be displaying a variety of automated, intelligent shoe-making machines.
The exhibits are PAILUNG's "Double Knit Double Selection (3-Axis) Electronic Jacquard Knitting Machine," which allows double-faced knitting on sandwiched fabric to create breathable hole structures; TIEN KANG's "Rotary Rubber Injection Molding Machine," which applies a mechanical arm and cold vulcanization-sole design to enhance productivity and reduce waste; DING-SHEN's "Automatic Recognition Spraying System," which uses programming software developed in-house, image recognition, and 3D visual scanning to help optimize spray path planning for items ready to be sprayed.
Interested vendors are encouraged to register for the space at their earliest conveniences. For more information, please visit www.taiwanfishery.com.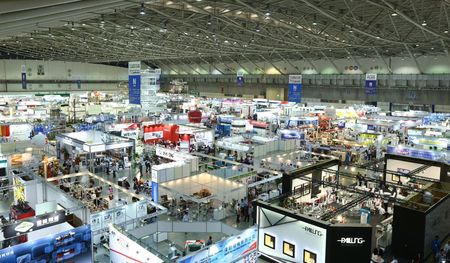 Second biannual "ShoeTech Taipei 2020" makes a huge showing for five days at Taipei Nangang Exhibition Center, Hall 2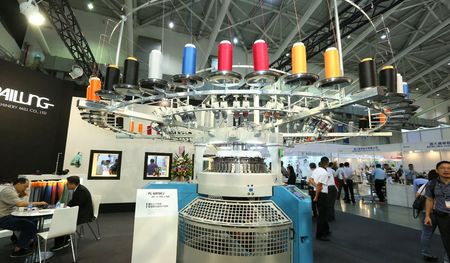 ShoeTech's inaugural show received solid support from manufacturers; many big-name domestic shoe-making machinery manufacturers displayed a variety of automated and smart shoe-making equipment